Home
MIDDLESEX POLICE DEPARTMENT
Matthew P. Geist, Chief of Police
Non-Emergency: 732-356-1900
The Middlesex Borough Police Department will be hosting a Fishing Derby on Saturday, June 9th, 2018 from 9am-12 pm at Victor Crowell Park, rain or shine. Registration will begin at 8:30am. Participants can pre-register. Use the registration form below and return it by mail (Middlesex Borough Police, Attn: Community Policing, 1101 Mountain Avenue, Middlesex, NJ, 08846), email (
cp@middlesexpd.com
) or register in person at the Middlesex Borough Police Department. The event is open to residents of the Borough and surrounding towns. Children grades K-8th may compete in the derby.
---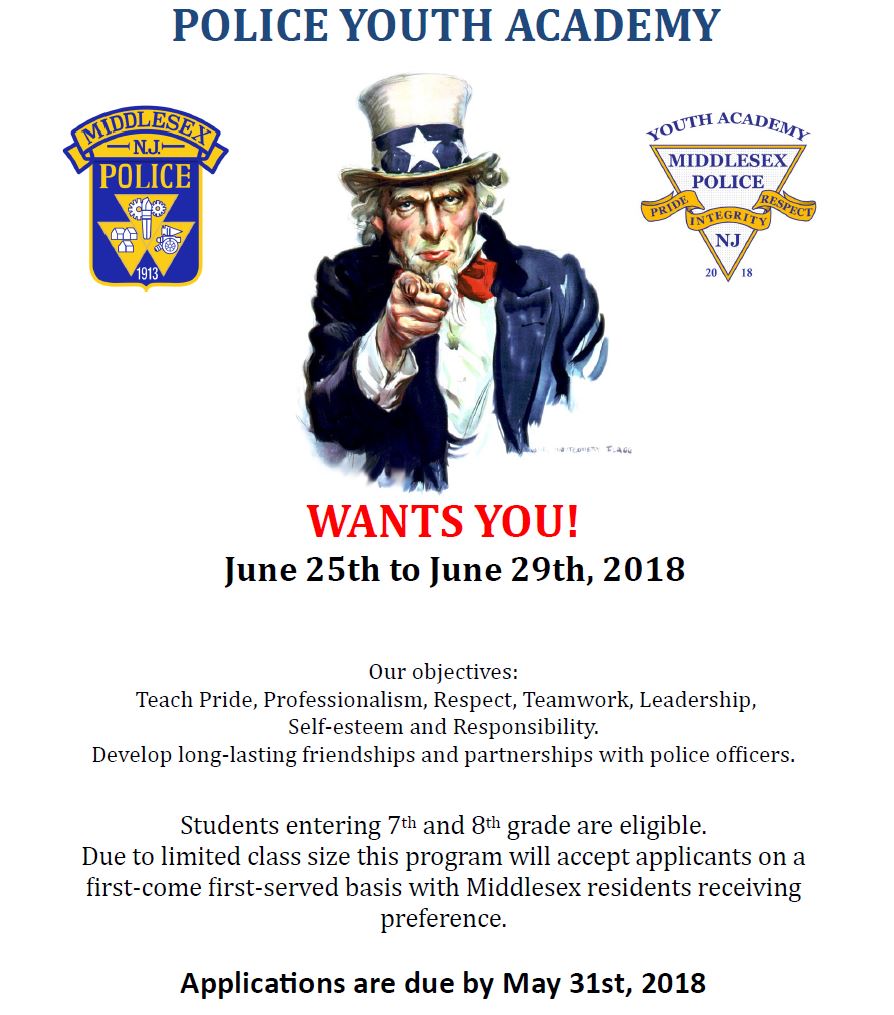 The Middlesex Borough Police Department's Youth Academy will be held from June 25th-29th, 2018.

The Youth Academy is open to Middlesex Borough Residents who will be entering 7th or 8th grade in September of 2018.

The Youth Academy will accept applications on a first-come, first-served basis.

Application and Emergency Treatment Release Forms must be submitted between May 1st, 2018 and May 31st, 2018.

Recruits must be on location and ready to begin promptly at 8:30am.

The day concludes at 1:00pm.

The cost to participate is $50.00 per recruit and must be paid upon acceptance. Make checks payable to "The Borough of Middlesex."

An Academy t-shirt, pair of shorts, baseball cap and notebook will be provided.

Uniforms will be distributed the week of June 18th and MUST BE WORN EACH DAY of the Youth Academy.

We would like to thank everyone who joined us for Coffee with a Cop on Saturday, March 24, 2018. We are extremely fortunate to have such great support from our community and we enjoyed sharing conversations and coffee with all of you. We also extend our gratitude to the Middlesex Elks for providing complimentary breakfast and refreshments to our guests. We look forward to our next event!
Please follow us on Facebook, Twitter and Instagram for the most up-to-date information.
Also register for our Nixle Notifications by sending "MIDDLESEXPD" to 888777 to begin receiving SMS/text-only messages.